The free version is the most practical choice. While Magento EE does have some great additional functionality, if you're not using it then it may not worth it.
However, if businesses that are planning to take operations to the next level should invest in premium platforms like the Magento Enterprise Edition.
Opting for this software can provide the necessary features needed to grow the business. It is crucial to take the business requirements and future plans into account.
For some sites, Enterprise makes sense. There is a marketing team, internal or external that will help plan usage for the marketing suite. They might have a team in place to analyse usage and to constantly maintain these features. If not, then start with Community.
Magento Community is a free open source solution, meaning, it should be enough if your store or brand doesn't have very huge requirements in terms of sales volume. However, if you are dealing with 6-figure revenue (such as millions of pounds in revenue per year), it is highly recommended to use Magento Enterprise, based mostly on its "out of the box" functionality that cannot be enjoyed in Community.
To make things clear for you, these are the numbers for the average Magento project for each version:
Which one to choose?
Magento Community Edition Website Cost- $7,000 to $15,000
Any website that incorporates a payment gateway becomes an eCommerce site. Enterprise Edition is an open-source commerce platform for developers and small businesses. This option is suited for companies that are shifting from a hosted platform and starting from scratch. For a basic eCommerce website with primary functionality only, your eCommerce store will be limited to:
■ basic Magento functionality including addition of products, configuring the payment method, page management
■ support for nearly all languages and currencies
■ simple design/theme
■ access to Magento Community website
■ a sorted and easy-to-use Content Management System (CMS)
■ no back office integration- not allowed to customize and integrate any third-party APIs
Magento Community:
Unique visitors/month > 1,000
Orders/month > 100
Turnover > 100,000 euro
Shop management FTE 0.5 – 2.0
Implementation time 6-8 weeks
Implementation cost 10,000 – 60,000 euro
Hosting costs 150 – 300 euro
License cost – 0
Magento Community edition "Out of the Box" features:
Web Design
Shopping Cart
Customer service
Order Management
Mobile Commerce
Product Management
Search Engine Optimization
Marketing
Analytics and Reporting
Multiple Websites
Magento Enterprise Edition Website Cost- $10,000 to $25,000
Meant for fast-growing and large businesses as it provides the most scalable and high-performance digital commerce solutions. It keeps your business ahead of complex commerce operations and increasing customer demands. From content to shipping and deployment to dashboard, you can personalize almost every screen as per your commerce requirements. It provides:
■ Personalization and customization to all levels
■ Displaying content as per your requirements and needs- content staging
■ Applying product filters
■ Flexible and easy deployment options
■ Optimized Page caching
■ Easy-to-use admin with custom dashboard
■ Catalog Management
■ Full Site and Content Management
■ Free professional customer support
■ Search Engine Optimization (SEO)
Magento Enterprise:
Unique visitors/month > 50,000
Orders/month > 500
Turnover > 1,000,000 euro
Shop management FTE > 5.0
Implementation time 14-16 weeks
Implementation cost > 50,000 euro
Hosting costs 600 – 2,000 euro
License cost – $14,420
Click the following link for in-depth details of Magento Open Source (Community Edition) and Enterprise edition out of the box features List: https://info2.magento.com/rs/magentosoftware/images/Magento_Feature_List.pdf
Magento Vs Opencart:
Both platforms have a lot in common. For example, Magento and OpenCart are both open sources, hence, free-to-download and both have been developed in PHP. Both platforms support multiple languages, and both have rather large communities. Also, both can support stores of any size. Following infographics demonstrates the difference between both platforms.

Some Market Share Figures
In terms of Market share, Magento is definitely bigger, with about 30% of top eCommerce websites being built on Magento, making it the largest eCommerce platform in the world. Open cart may be a lot smaller and newer on the market, but that doesn't mean it falls in quality. It's interesting though that according to BuiltWith.com, Magento is the most popular open source e-commerce platform among sites ranking in the top 1,000,000 such websites in the world.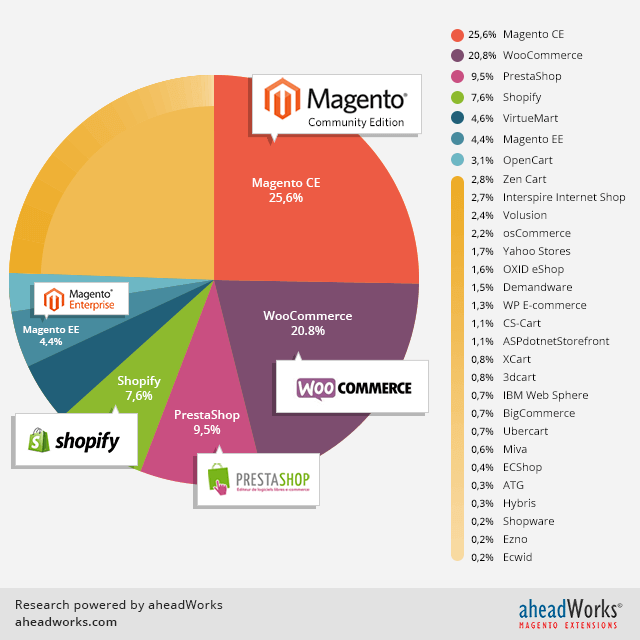 Magento's share of the ecommerce stores of the one million most popular websites has been around 25-30 percent in the last few years (taking into account both the Community Edition and the Enterprise Edition versions). The number of users in case of OpenCart is significantly lower, the share of the system is about 3.5-4 percent. On the other hand, with this share it still is considered to be one of the most frequently used online store engines.
Magento Extensions Pricing from 50£ up to 1000£
While looking for an ecommerce platform, it is important to know what business requirements are and what will work better for the business. For the beginner, OpenCart is the best platform to run a small online store. Open cart is more suitable to build store independently because it's more intuitive, and it's (almost) free to use.
Magento Enterprise Edition is great for larger stores with larger budgets. It's got scalability to support the growth of the business for years to come, and support any need in the future.
On the other hand, as mentioned earlier that Mangeto community edition (Free Version) is the most practical choice and offers many good "Out of the Box" features and extensions such as amazing custom features, SEO capabilities, and a lot more that helps business to stay on top of the game.
Visual Group Ecommerce Website Potential Budget:
| | |
| --- | --- |
| Items | Cost |
| Domain Name | — |
| Hosting Server | — |
| Mangeto Community Edition | Free |
| Installation | — |
| Development | — |
| Maintenance | — |
| Extensions | £488 |
| Total | £488 |
Calculating costs for Magento extensions doesn't have any accurate standards or ranges. However, if I assume that a website needs a minimum number of 10 extensions, it might cost £1000-£2000 to have them installed.